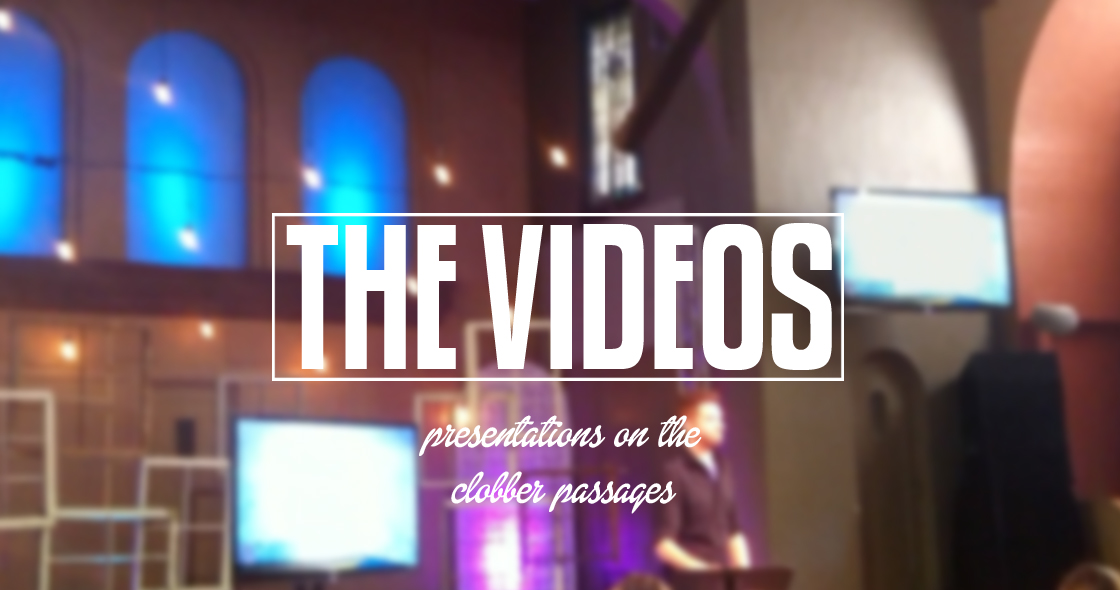 In stunning High Definition, below you'll find three UnClobber videos addressing the most prominent Scriptures dealing with homosexuality.
Covering 6 of the 7 Clobber Passages, and filmed at Missiongathering Christian Church in San Diego, these videos promise to provide you a fresh look at the Clobber Passages.
For those who resonate with the more traditional approach to these passages, these lectures will offer compelling insights in to other ways of understanding the Bible.
And for those who have long felt (in their heart) that the church has gotten this issue wrong, but their minds have been held back because of the Clobber Passages, these videos will help you connect your heart with your head.
Each video may be purchased individually for $3.99, or you may buy all three for $9.99.
"You shall not lie with a male as with a woman; it is an abomination." -Leviticus 18:22
One of the most vitriolic words used against the LGBT community over the years is to call them An Abomination. In this session, Colby explores where this phrase came from (Leviticus 18:22 and 20:13), and offers some insights into what it meant for something to be an "abomination" for the ancient Israelite people.
"Their women exchanged natural relations for those that are contrary to nature; and the men likewise gave up natural relations with women..." -Romans 1:26-27
It's Not Natural jumps in to the heart of one of the most often quoted Clobber Passages, Romans 1:26-27. It is widely believed to be the definitive text in the Bible for a clear and explicit prohibition on any and all same-sex sex acts. But a broader and more in-depth study in to this passage might offer some compelling reasons to think differently about these verses.
"Men who practice homosexuality... will not inherit the kingdom of God." -1 Corinthians 6:9
It is not uncommon for someone to do a quick Google search when they are interested in what the Bible says about homosexuality. And that search will likely take them straight to 1 Corinthians 6:9 and/or 1 Timothy 1:9 where many recent English translations have included the word "homosexuality." Lost in Translation explores what the text originally said and referred to.